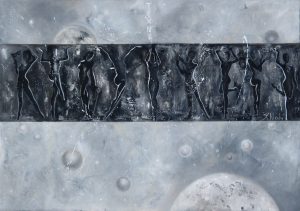 Γράφει: Δρ. Αλεξάνδρα Κουρουτάκη, Ιστορικός της τέχνης, μέλος ΕΔΙΠ Πολυτεχνείου Κρήτης Κείμενο τεχνοκριτικής για το εικαστικό έργο της Χριστίνας Χατζηντεβέ : Χριστίνα Χατζηντεβέ : « Αντινομίες και Συζεύξεις » Στο μεταίχμιο μεταξύ ανατολής και δύσης, αφαίρεσης & αναπαράστασης, το ζωγραφικό έργο της Χριστίνας Χατζηντεβέ διακρίνεται για τον πλούτο της θεματολογίας και των υφολογικών της διατυπώσεων. Από το 2000 έως σήμερα, η εικαστική της γραφή εξελίσσεται δυναμικά, ωριμάζει, απελευθερώνεται, αποκτά προσωπικό χαρακτήρα, εμπλουτίζεται με στοιχεία χειρονομιακής, εξπρεσιονιστικής, αφηρημένης έκφρασης και διαθέτει ποικιλία τεχνοτροπικών επιλογών (μεικτές τεχνικές, κολάζ, χρήση γραφίτη, κλπ). Με επιρροές από διαφορετικές πολιτιστικές συντεταγμένες, λόγω της διπλής της καταγωγής, ...
Διαβάστε περισσότερα
Virtual Exhibition under the auspices of the Pinacothèque Vogiatzoglou (Pinakothiki.Vogiatzoglou)Inauguration online, Thursday, February 4, 2021, at 5.30 p.m., on the artist's website elenimanolarakiartworks.com Exhibit Text by Dr. Alexandra Kouroutaki, Art historian, Member of specialized Teaching personnel, School of Architecture, Technical University of Crete Eleni Manolaraki's new exhibition entitled "In Life as in Art" is structured into three thematic sections, including watercolor and tempera landscape paintings, an installation (set in her studio), and pencil, pen and ink drawings. Section: "From the mountains to the Mountain". With her new exhibition, Manolaraki highlights her deep, honest and essential relationship with nature.Ther collection of ...
Διαβάστε περισσότερα